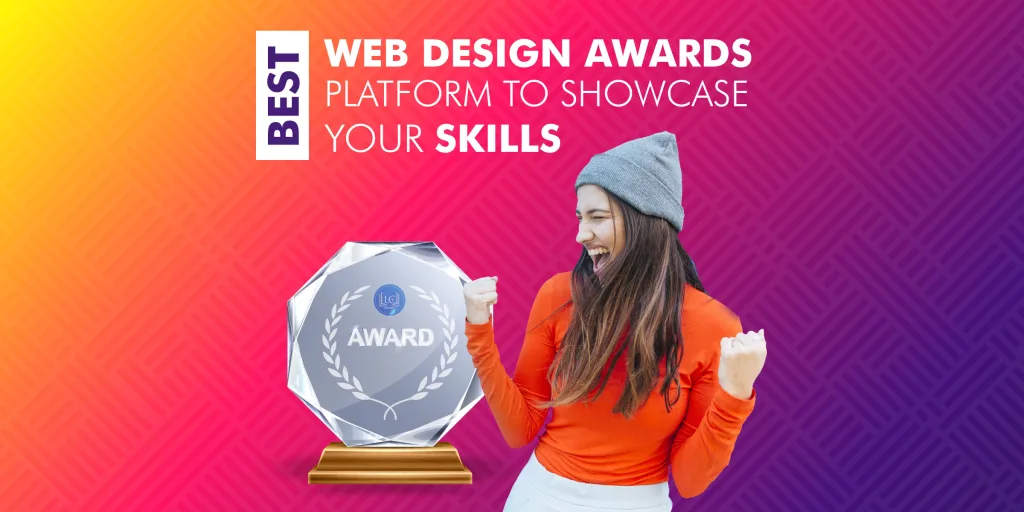 The world of website design is crowded. With billions of websites online, there are millions of designers fighting to gain attention. The only way to rise above the crowd is to demonstrate your expertise. Web Design Awards can come in handy to showcase your skills.
This list is a combination of websites with both free and paid plans.
The most popular web design awards website is awwwards.com. Therefore, it attracts about 2,000,000 unique users each month and is one of the most popular website for design inspiration.
A panel of jury comprising designers, creative directors, bloggers and agencies from all over the world judges your designs here.
There are several categories of awards such as SOTD(Site of the day), Site Of the Month, Site of The year, Nominees and others. On winning an award, you can showcase the badge in your website.
Awwwards offers only paid submissions. You can upload your design in their submit page and choose the plan you are comfortable with.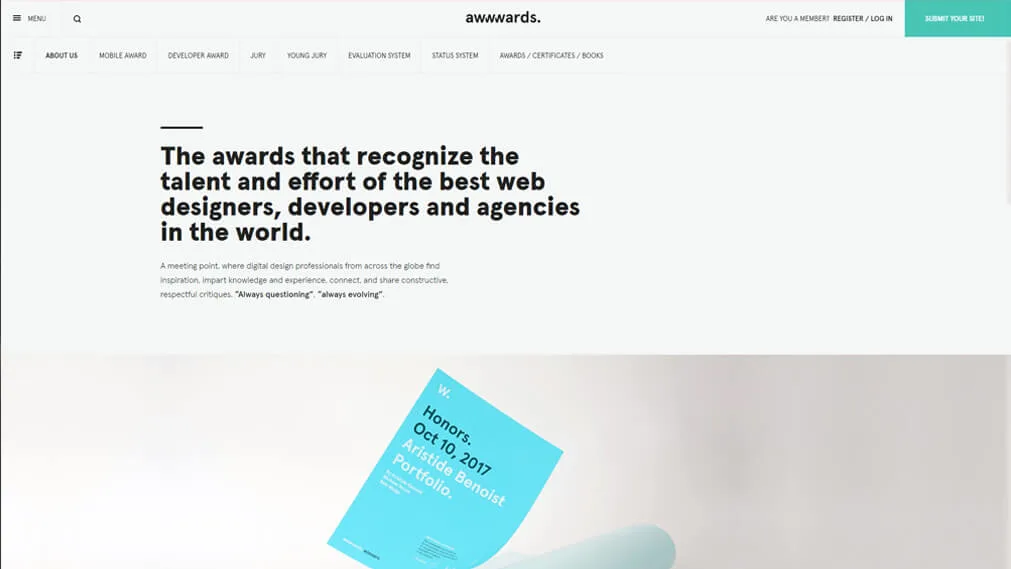 Like Awwwards, CSS Design Awards too is one of the popular web design awards platform. The website the launched in 2010 and has since become one of the major Design Awards Provider.
Awards provided here are – Website of the Day, Website of the Month , Website of the Year and Designer of the Year. After that, winners here are determined by votes from both the public plus the score by the judges.
This website only accepts paid submissions. We can make submissions here from the submit page.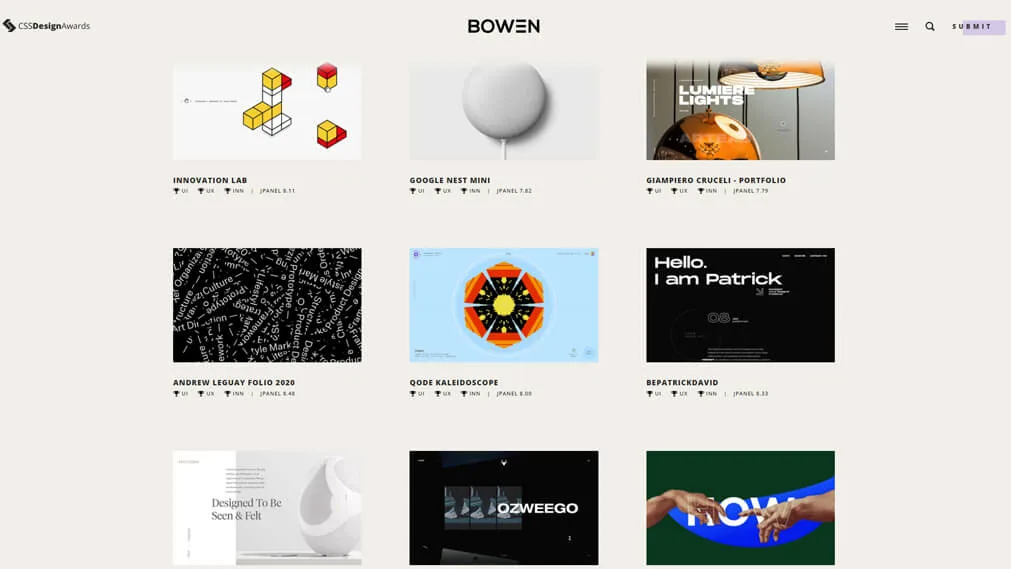 CSS Nectar is also a premium web design award website. Every website submitted here is reviewed by their design team and added to the website within 24 hours.
To submit your website, you can visit their suggest site page and fill up the online submission form.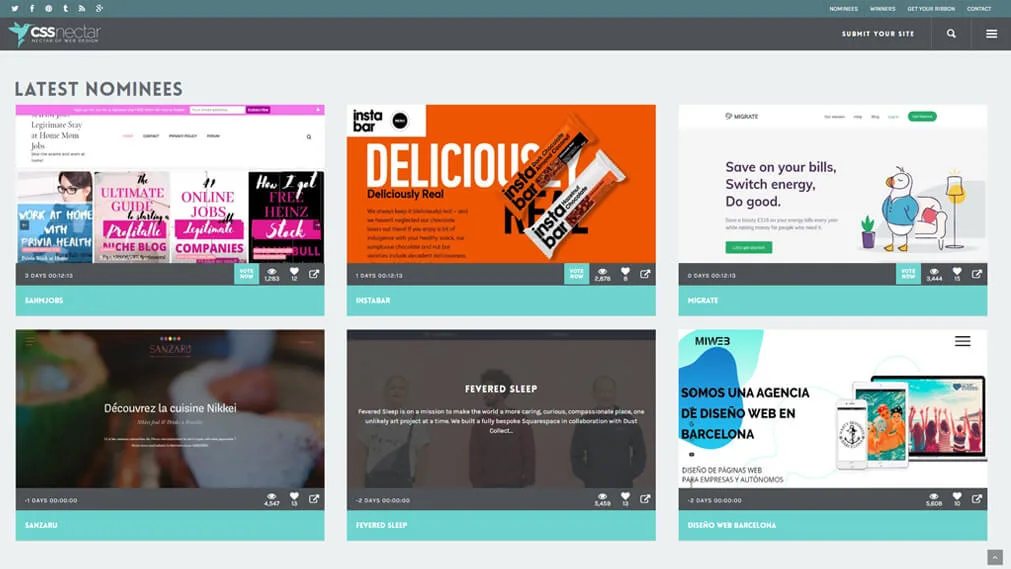 Similar to CSS Nectar, CSS Winner too is a paid web design award website. Design, Functionality, Usability, Content and Scope are considered while ranking websites here.
SOTD and SOTM are the 2 awards here. In addition, they also provide certificates on request.
You can submit your website by visiting their submit site page
Top CSS Gallery offers Free submission plans. Similar to other websites in this list, Top CSS Gallery too provides awards and badges to winners.
'Site of the Day (SOTD)' is awarded to the best submission of the day. The websites submitted here are evaluated by a team of in-house experts.
You can submit your website through their submit page. Above all, they provide both free and paid plans.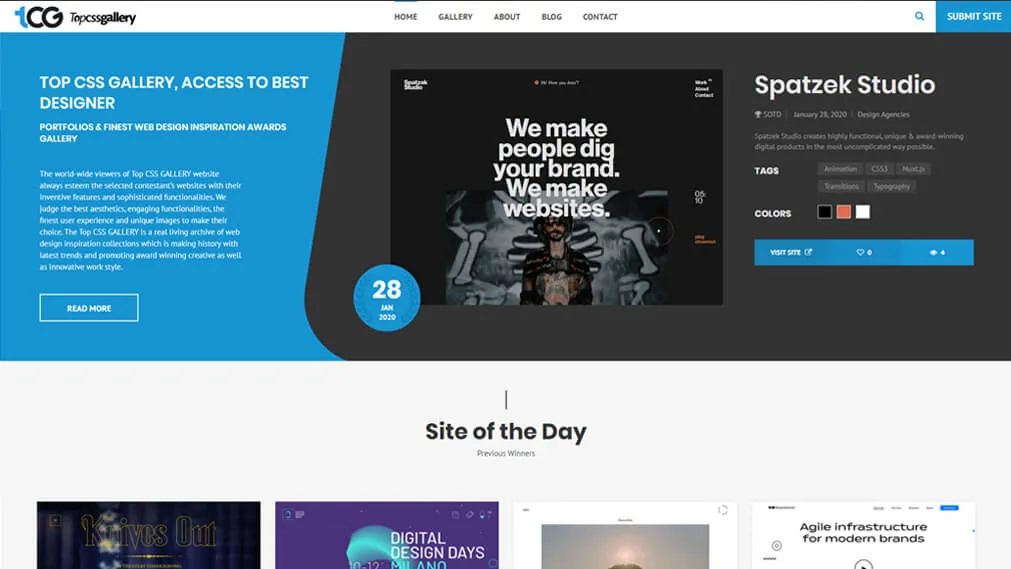 FWA started in 2000 as Favourite Website Awards, in England, UK. Along with Web Design Awards, FWA also allows web apps, mobile apps, AR and VR projects.
Their jury comprises 300+ people from 35+ countries. You can check the voting in their live judging page.
The FWA accepts paid subscription only. You can submit your website by visiting their submit page. However, their submission is only available during certain times of the year.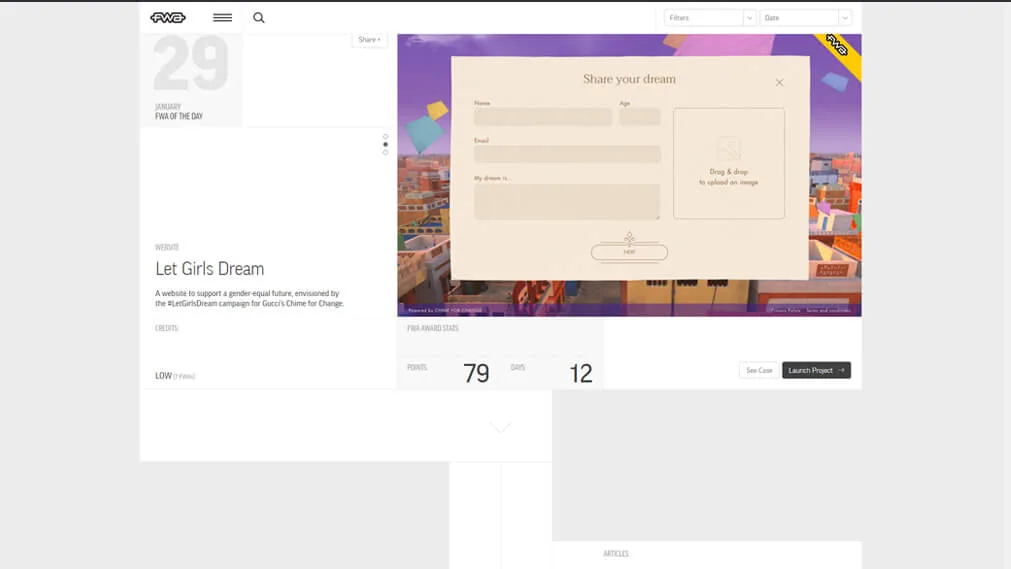 W³ Awards is another popular Web Design Award platform that provides regular rewards to good web designs. This website is maintained by the Academy of Interactive and Visual Arts.
The W³ Awards statue is custom designed and handcrafted by Society Awards. Winning entries can receive a physical Gold, or Silver award.
Like many others in this list, W3 Awards too allows only paid entries.
This is primarily a showcase website. However, if you have a ecommerce website, consider submitting it here to compete with other web designers.
Ecommerceshowcase has websites from most of the common ecommerce platforms. They claim to be the showcase of the latest and greatest e-commerce website design inspiration.
You can submit your website for free here. They also have a paid plan for priority clients.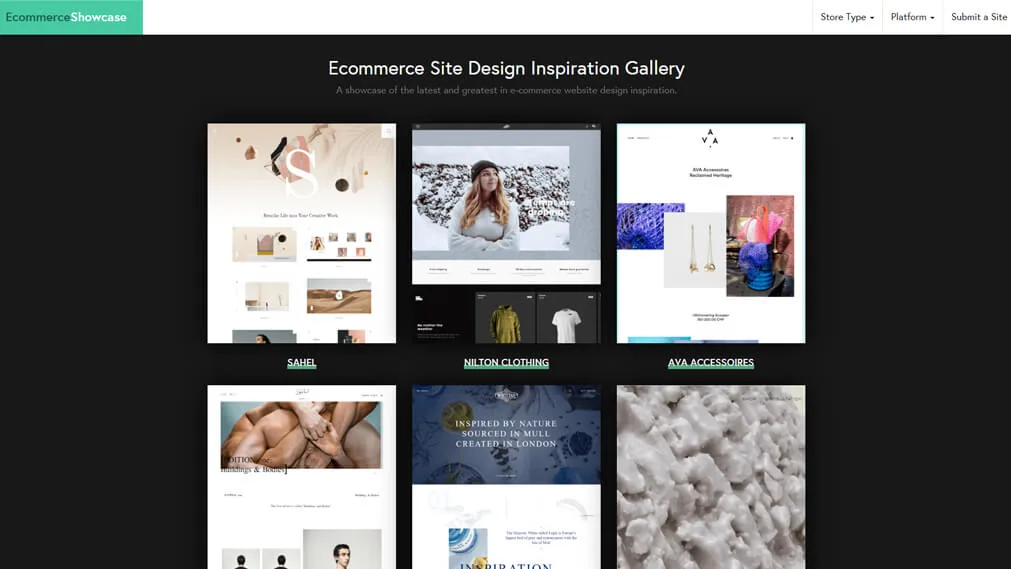 Continuing on the ecommerce theme, cartfrenzy is another ecommerce showcasing platform.
Although it isn't primarily an awards website, the site has lots of good ecommerce sites to showcase.
You can either submit your site for free or get the paid priority pack.
Shopsiteawards is another ecommerce showcase platform and awards website.
It provides free submission of websites.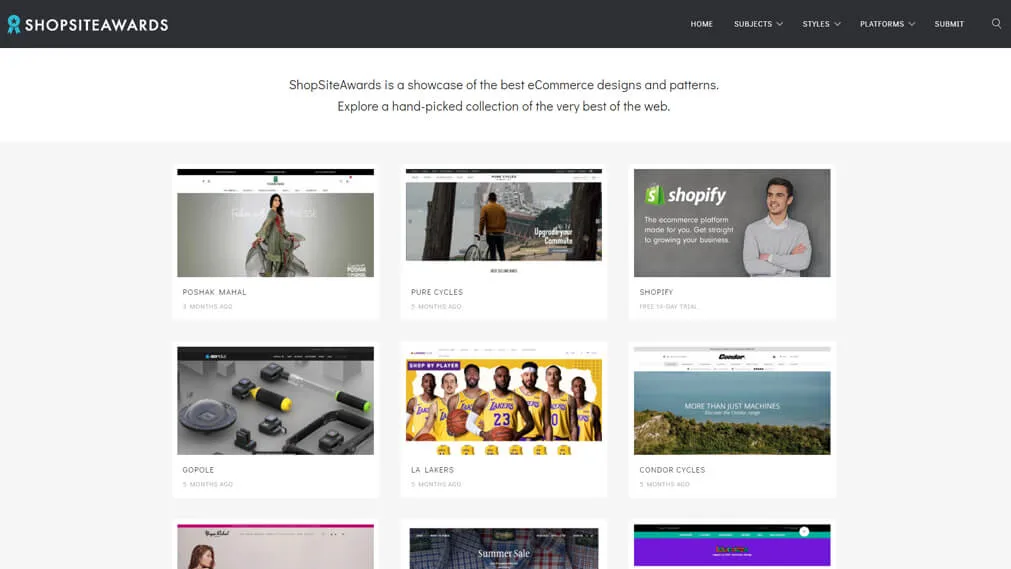 Founded in 1959 to honor excellence in advertising, the Clio Awards today celebrates bold work that propels the advertising industry forward, inspires a competitive marketplace of ideas and fosters meaningful connections within the creative community.
You can find the process of submitting your site in their how to enter page.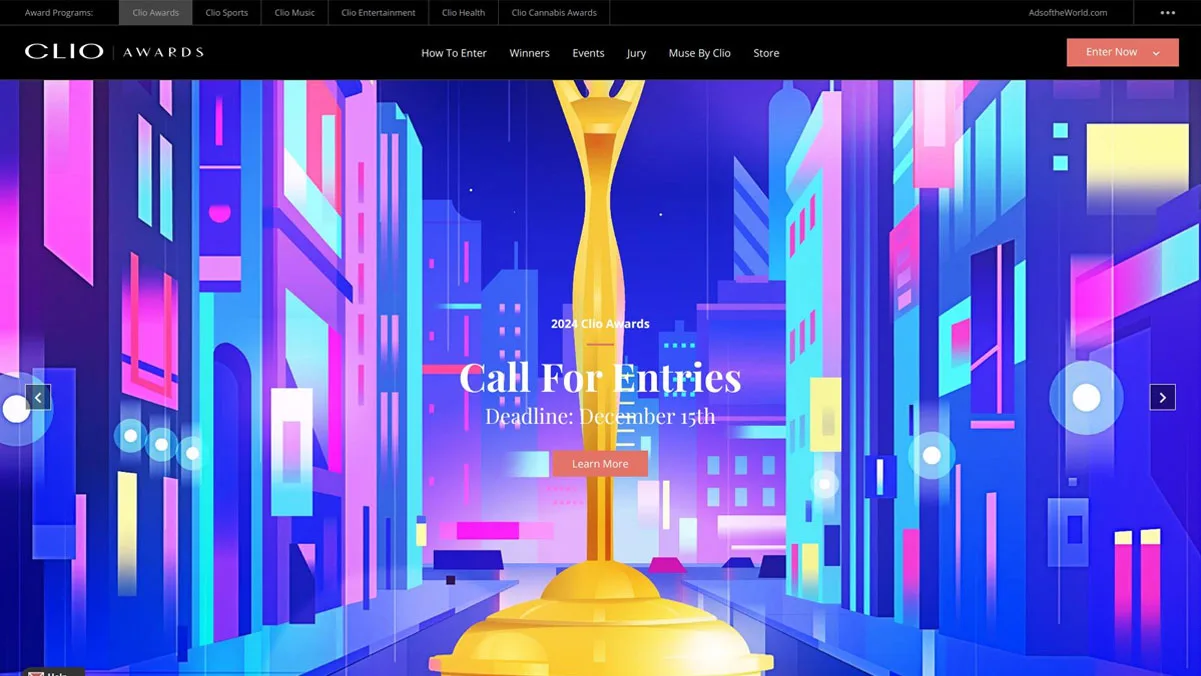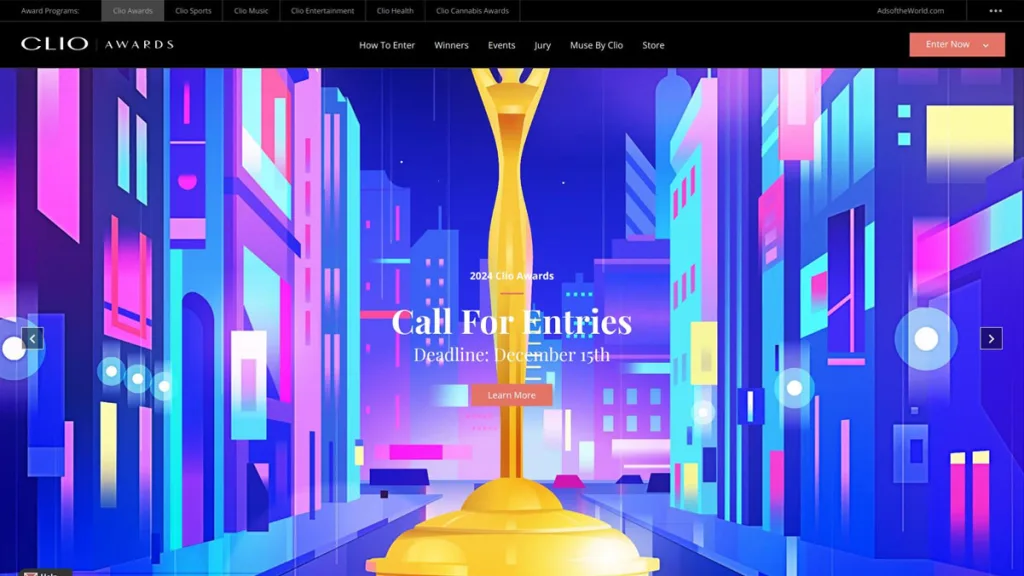 The Webby Awards is one of the oldest web design awards platform. It is established in 1996 and the awards are presented by the International Academy of Digital Arts and Sciences (IADAS)—a 2000+ member judging body.
The Webby Awards presents two awards in every category- The Webby Award and The Webby People's Voice Award.
Judges here comprises of Executive Members, leading Web experts, business figures, luminaries, visionaries and creative celebrities and Associate Members who are former Webby Winners, Nominees and other Internet professionals.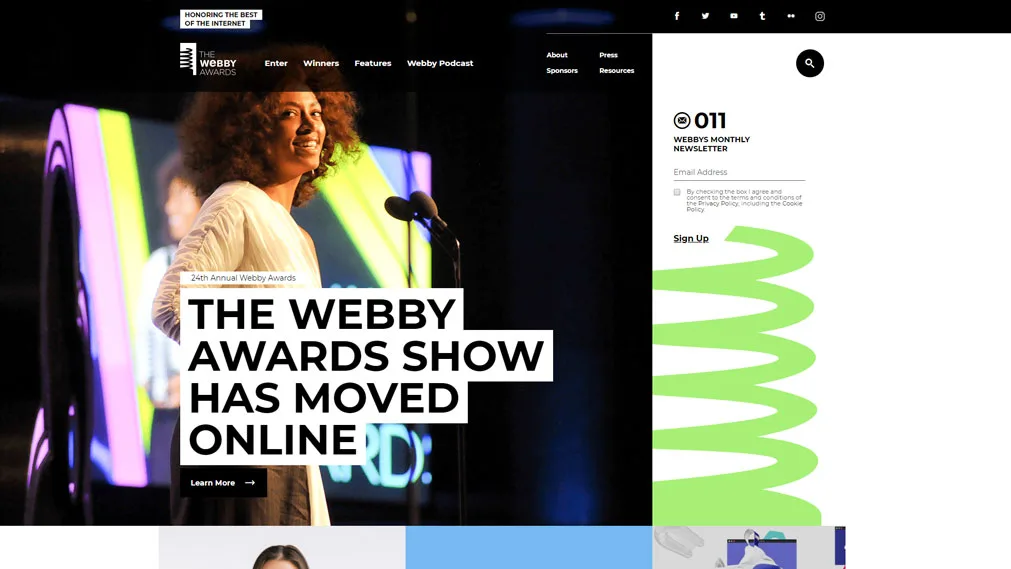 The Lovie Awards is a sister website of The Webby Awards. They provide awards and recognise the unique and resonant nature of the European Internet community.
Lovie Awards provides awards in Websites, Online Advertising, Internet Video, Mobile Sites, Apps & Podcasts, and Social, and accepts work in seven native languages.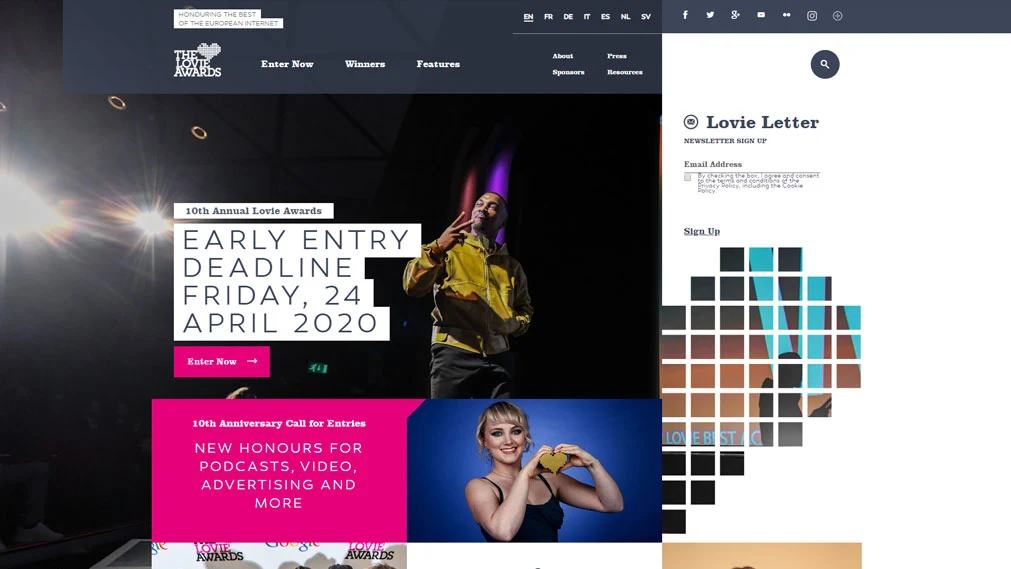 Adesignawards claims to be World's Most Influential Design Award. They present design awards in different categories such as construction, product, digital designs etc.
They organise regular award conferences for award winners and judges. The judges panel consists of world-class designers, established academics, prominent press members and entrepreneurs.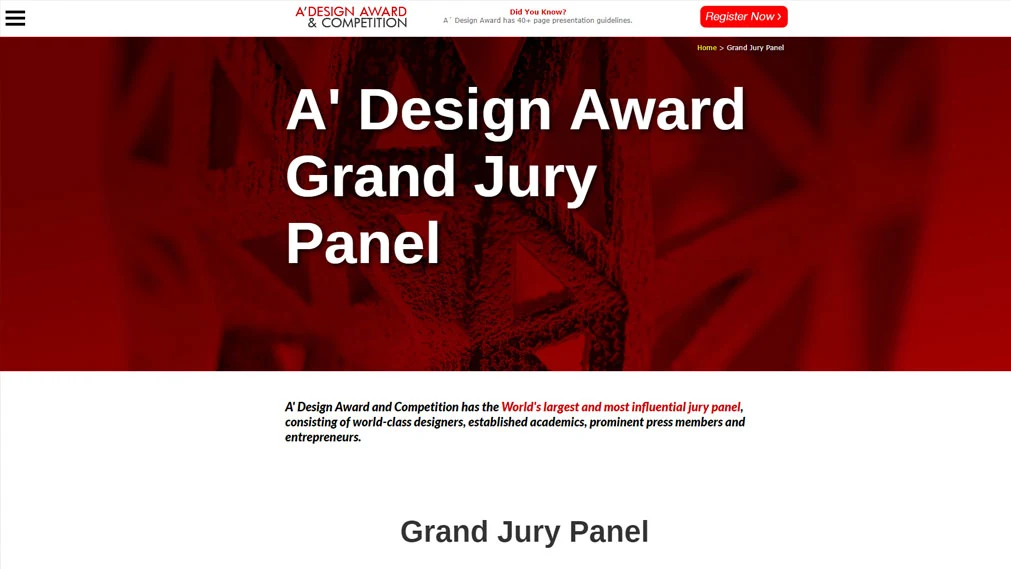 Horizon Interactive Awards identif ies excellence in interactive media production. They provide awards in website design, Mobile apps, video production, online advertising and print media.
Started in 2002 the web design awards platform receives entries from all over the world.
They provide a solid crystal statues made exclusively for the Horizon Interactive Awards competition. In addition, they also provide framed or double matted certificate.
Judges here consists of voluntary jury from all walks of life. It is a paid platform and you can find their entry information here.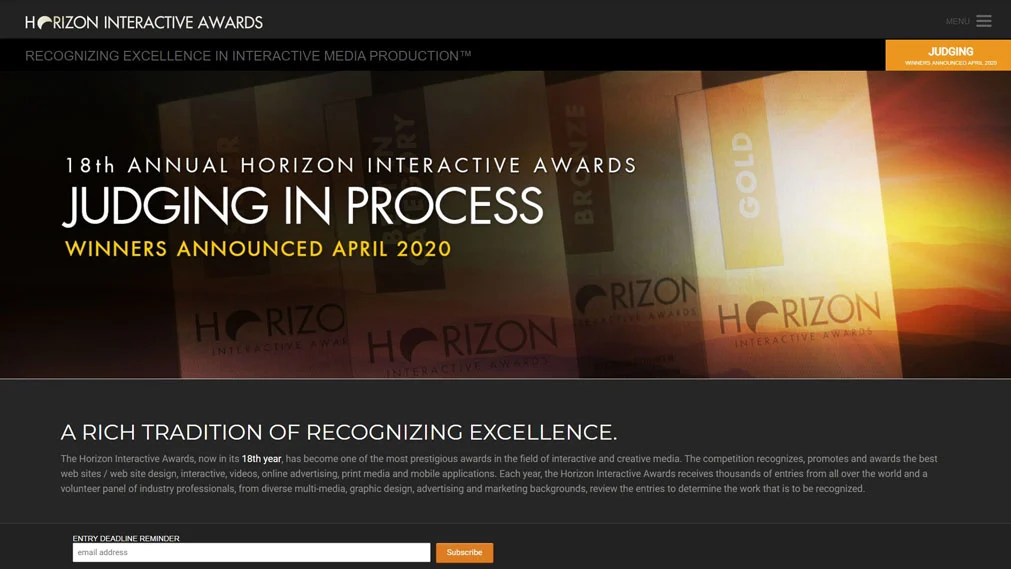 Roses Creative Awards is organized by the Drum, one of Europe's largest media and marketing website.
The Roses awards recognition in advertising, design and digital. Their only condition, you will have to be someone from UK or Ireland but outside London M25. Awards are given in Gold, Silver or Bronze accolade.
Roses Creative Awards is a paid platform, so please check for their prices in their about page.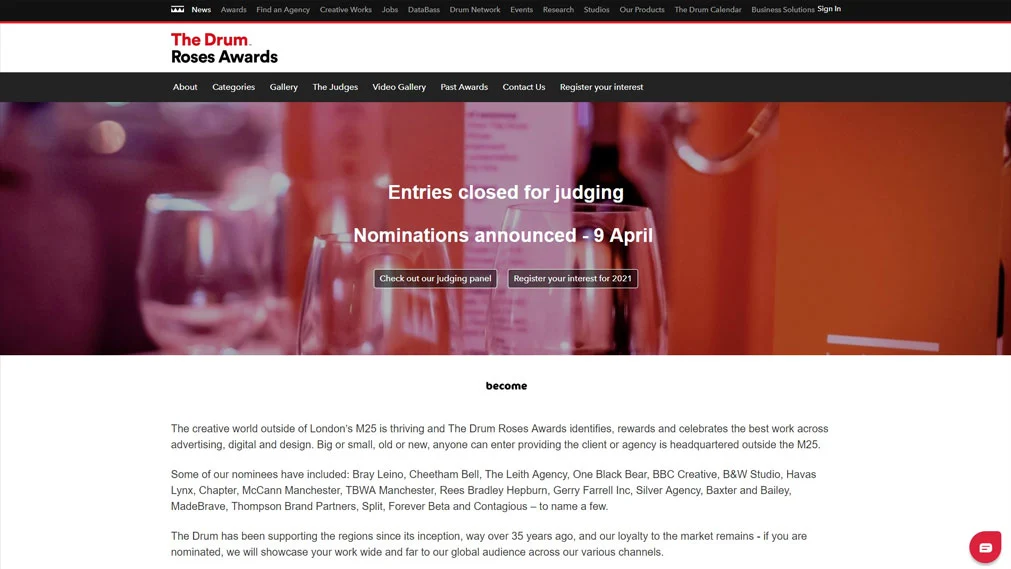 The 10 Best Design Reviews and rates the best web design firms based on a large number of qualitative and quantitative ranking points.
This is a San Francisco based company and have judges from all over the world.
10BestDesign accepts paid submission from their submit page.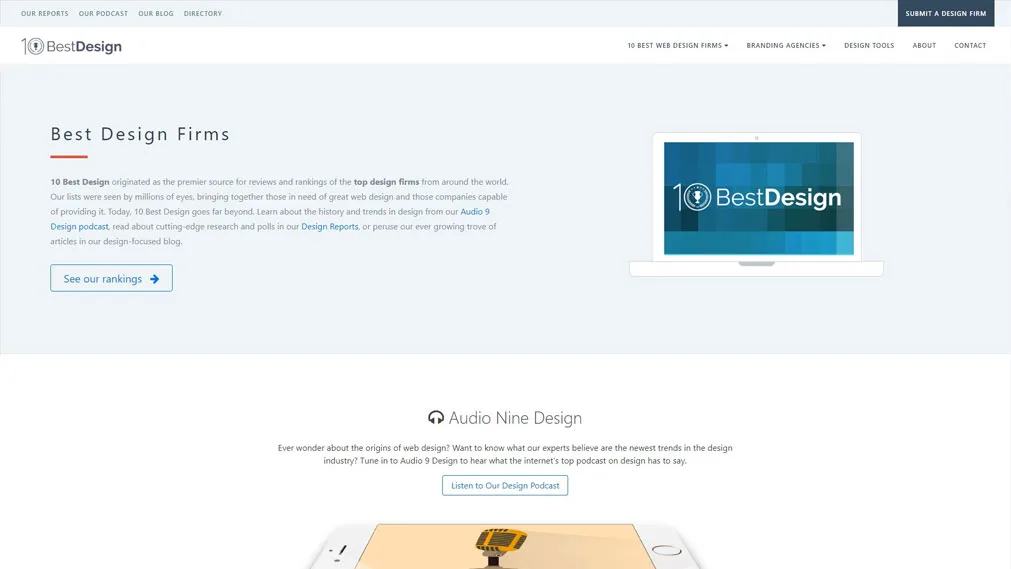 WebAward is web design awards platform produced by The Web Marketing Association.
They claims to judge websites in 96 industries while setting the standard of excellence for all website development.
You can submit your design by joining the website.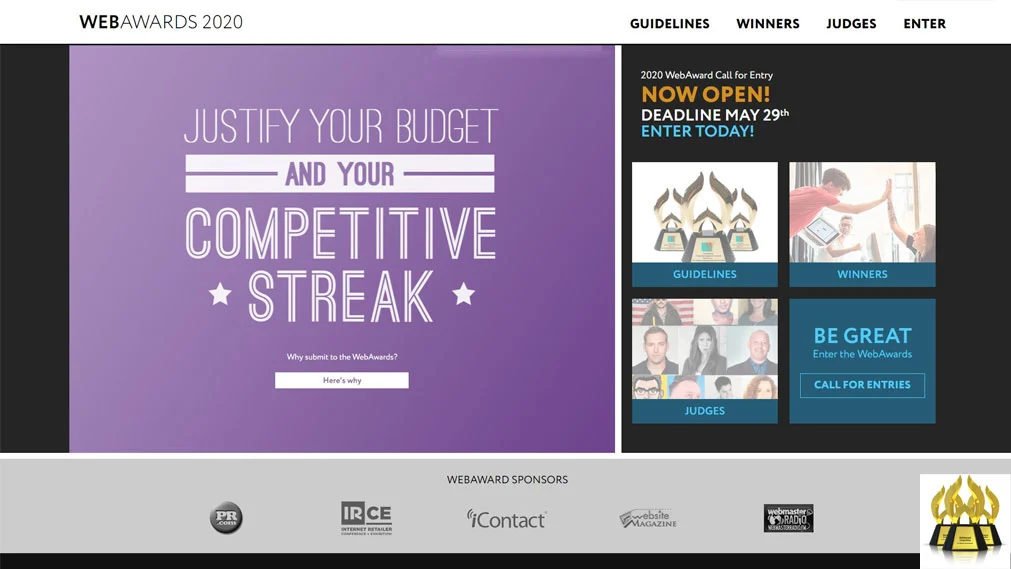 Pixel Awards is a web design awards program honoring exceptional design & technology since 2006. It was founded by husband and wife team Erick and Lisa Laubach.
The judges panel consists of leading designers, developers and decision makers from companies such as PayPal, Adobe, Google and Netflix.
Their trophy is made of Solid brass and handcrafted by Rextorn Metalworks – famous for their Dragon's Egg and Stark's Emblem creations from Game of Thrones.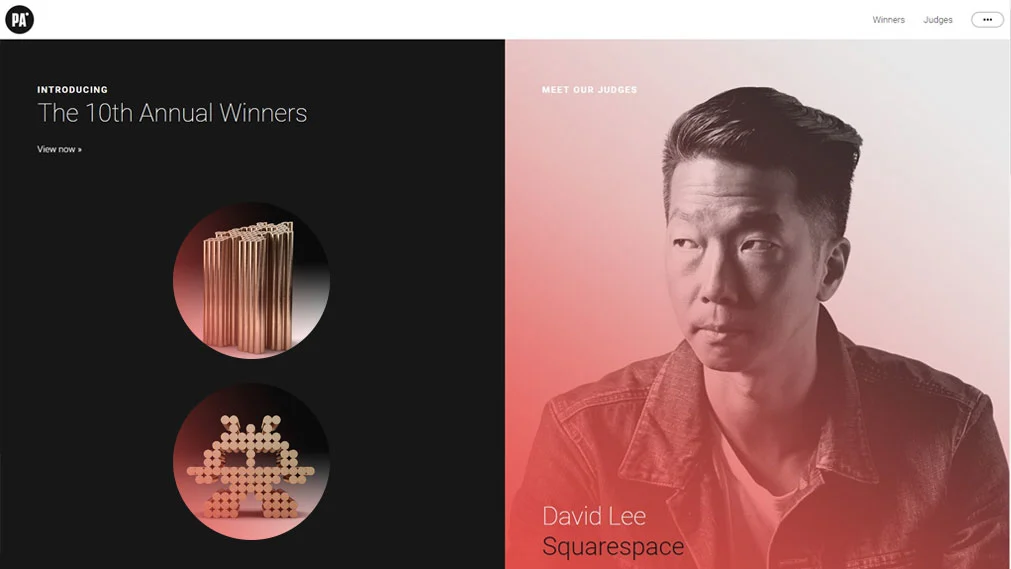 The Interactive Media Awards™ is created by the Interactive Media Council, Inc, which is a nonprofit organization of leading web designers, developers, programmers, advertisers and other web-related professionals.
They design the competition to elevate the standards of excellence on the Internet and offer winners a boost in marketing and exposure.
On winning this award, you will get to showcase their badge on your website.
They accept nominations for the award from around the world, from web design firms, advertising agencies and corporate marketing departments, and individual web designers and graphic artists, among others.
You can submit your design by filling their entry form.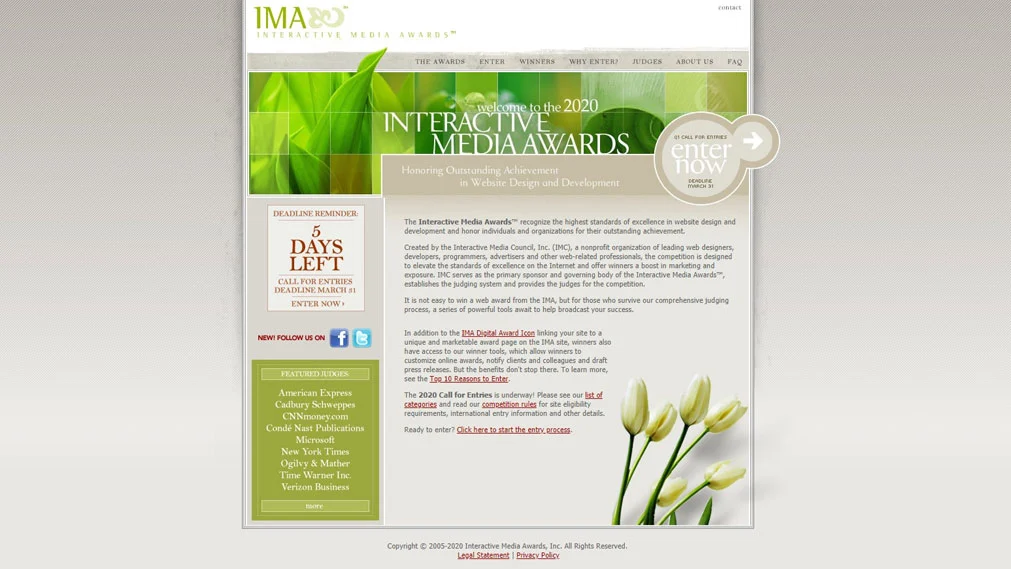 Web Guru Awards claim their mission is to explore and identify the talent, dedication, care of web developers and designers who create remarkable websites and to uplift these eminent websites globally.
They provide 3 awards- Web Guru of the Day, Guru of the Month and Guru of the Year.
Recently they have changed their paid plans to free and you can submit your website through their submission page.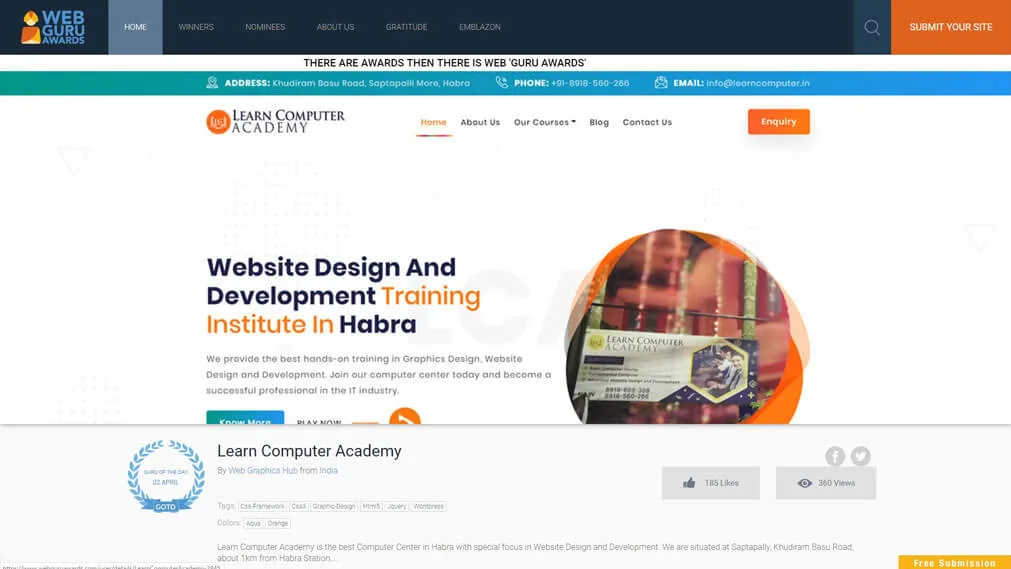 This group is a web design awards platform for Australian websites. They showcases outstanding work by Australian web designers, developers, social and search engine optimisation SEO specialists.
The judges' panel comprises prominent designers and developers of Australian websites.
DesignRush is a B2B marketplace connecting agencies and brands, with more than 10,000 professional agencies listed, from the USA and all around the world.
Each month, they publish a limited number of best designs approved by their expert team. The Best Design Awards section alone receives over 50,000 targeted visitors each month.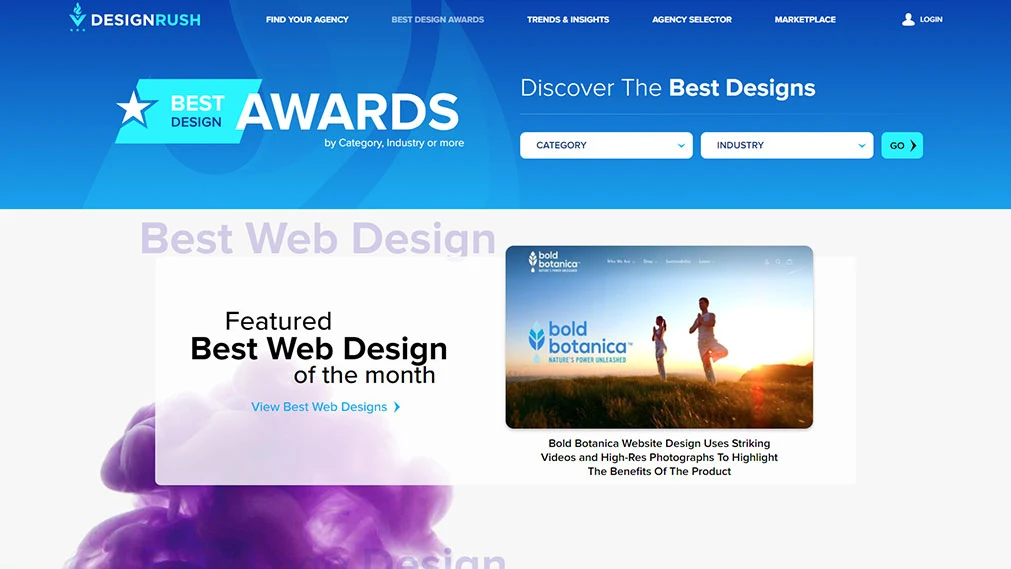 ---
Conclusion
Submitting projects to web design awards platform helps you earn the honor, recognition and respect you deserve. Moreover, it helps to grow your business exponentially by fully capitalizing on every success.
Participating or winning such awards differentiate your services from your competitors. Therefore, it makes the sales process about quality, expertise and results much easier. Above all, it creates a level playing field for new and small firms.
Web Awards helps your site get evaluated by the pros and seen by our sponsors. Finally it helps you get recognised in your specific industry expertise.
---